Dining With Mimi Web Site- Reality covering the Basics of Web Site Service and Creation of Words, Photos and Recipes
I created  the web site out of my love for food, entertaining, travel and music. Over time I have learned that I am happiest when I am creating. Great food is best shared whether it is a recipe or with friends.
Writing about a memory, travel trip or ideas around entertaining is to be passed on. Sharing the recipes, ideas, writing, travel tips or suggestions to improve your cooking or kitchen gives me pleasure. I hope that you will enjoy and that it may serve you well.
Thank you for your continued support! Please subscribe to the site so that you will receive updates. Share the site with anyone that may enjoy a new recipe, story, travel tip or entertaining.
Happy Cooking, Y'all!
Dining With Mimi Web site-Errors
Dining With Mimi Web Site is a vehicle for me to share my love of food. I would love to think that I will edit out mistakes, grammar or spelling errors before you have to suffer them. I am sure that would be an illusion. Please send me a comment and I will happily address.
Dining With Mimi Web Site and recipes created  stem from  hands on training, research, study of food and flavors. I am not a Chef.  My passion  is food, entertaining and sharing. If you see an issue or problem with an item, please send me an email.
Dining With Mimi Web Site-Recipe Creation or Adaptation
I have a love of food, flavor and travel. This love has allowed me to experiment with food. I use my kitchen as a lab to create my recipes. Many things inspire me to create and are all around me whether it is a food item, photo, conversation with a friend, food memory, spice etc.
Sometimes, I am inspired by another Chef or Cookbook, I will always mention in the post and give credit. In my opinion, this is a must and shows respect for the hard work that goes into creating.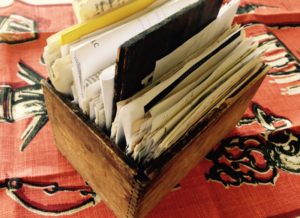 Dining With Mimi Web Site-Recipe Disclaimer
Dining With Mimi recipes are influenced in part because I was born and raised in Louisiana. My spice palate is wider and higher than average and I love full on flavor and spicy. Yet, I will dial down the heat seasonings to allow you to increase as needed. For my family, I have tried to decrease the salt and increase the herbs.
Brand Names- No money or items exchanged
Any brand names mentioned in the site are for reference only and because I have found success with the item and  what it offers for value or quality over other brands.
All contents are disclosed without any financial gain nor have I received any items to influence comments made on this site.
Dining With Mimi Web Site-Photos
Photographers will be given credit on photos for the site. Personal and family photos from my private collection were taken by "the family".
Dining With Mimi Web Site-Music
Truly I am a huge music fan of most types of music. It is easy to  enjoy different types of music based on my activities or moods. More importantly, share new music and support the artists that work so hard to create.
It is easy to get stuck on a certain type of music when we love it. Be open to different styles and artists. Broaden your horizons and listen with an open ear. Enjoy!
Privacy  and Liability Statement
Dining With Mimi Web Site offers all information for  personal use only. Content is not offered to be used for commercial or non-profit use without express written permission from Mimi. I am happy to share information, please send me an email and scope of requests.
Dining With Mimi Web Site offers information based on personal hands-on training and available research tools. If you have a questions or concerns, please contact me or  proceed using your best judgement.
Dining With Mimi Web Site uses multiple Software programs and Analytic Tools to enhance the web site. This site  will not share personal information with third parties. Dining With Mimi  Web Site does not store information about your visit to this site other than to analyze, optimize content and experience through the use of cookies. You have the option to turn off this feature in your specific browser settings at any time.
Dining With Mimi Web Site is not responsible for republished content from this site or other blogs without express written permission. This policy statement  is subject to change without notice as needed. This policy statement was updated on 1-31-20
© Copyright Dining With Mimi , 2020-2016 Unauthorized use and/or duplication of this material without express and written permission from this site's author and/or owner is strictly prohibited. Excerpts and links may be used, provided that full and clear credit is given to Mimi Woodham Dining With Mimi with appropriate and specific direction to the original content. Copyright 2020-2016