Almost from the beginning I liked reading. I discovered pleasure traveling in my mind to parts unknown. Books introduced places and worlds filled with all manner of strange creatures. For years I have longed to join the ranks of other writers and put my words on paper. What thoughts would be worthy of sharing? First stop, Mimi's New Food Column.
Sharing words, recipes and breaking bread with your loved ones is certainly not a new idea. At some point in our modern society cooking at home developed a negative stigma. Maybe it started with women who felt chained to the kitchen and housekeeping. As a wife, Mother, Mimi and business owner, I understand how challenging feeding a family becomes on a daily basis.
With the daily struggles of taking care of our family, innovations and appliances have assisted in making our life easier. I recall the horror I felt when my Grannie described washing clothes the old fashioned way.
Clearly, times have changed and technology has brought us many inventions. Now we have devices to reduce time spent on menial tasks, eliminate repetitive steps, automate our lives and provide much needed convenience.
Addiction to convenience
Yet, with our addiction to convenience I believe that we have been led astray when it comes to cooking. Big business wants us to believe that frozen or prepared foods are just as healthy as cooking from fresh fruits and vegetables. It just isn't true. More importantly, vegetables and fruit lose up to half their nutritional value within a week of harvesting.
So when did they harvest the produce in the grocery store? Who knows but it is ideal to have your own garden or grow vegetables in container pots. Also, buy veggies from your local farmers, farmers market or CSA. Supporting local farmers is good for you, local community and our environment.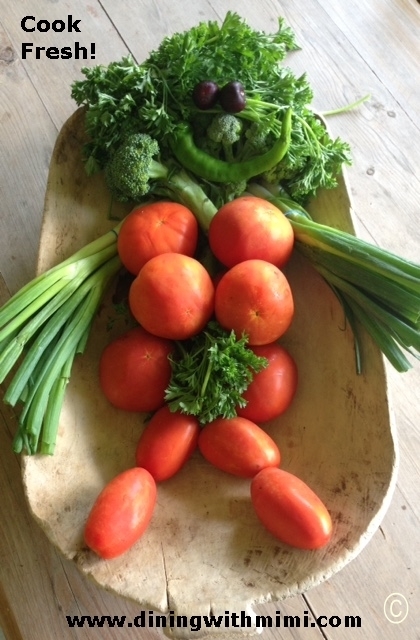 Fresh produce picked locally will provide the best nutrition. Preparing meals at home will allow you to control the amount of calories, salt, fat and sugar. Also, the amount of chemicals and preservatives that you introduce and feed your family will be greatly reduced. Paying attention to these things help improve our health.
Start making small changes
It is impossible to follow these guidelines all of the time. Time and circumstances dictate that we eat out, grab fast food or cook frozen dinners. What I am suggesting is that you start making small changes to improve your cooking and overall nutrition. Occasionally we all need instruction in the art of eating.
When I cook at home it is a labor of love. Thankfully my mentors introduced me early to the joys of cooking. If you struggle with this, please let me help you, First Stop- Mimi's New Food Column. We can start small and work our way up. Before you know it you will want to show off your cooking skills.
Love from Mimi's Kitchen