Local Paddle Group is an idea that I should have had long ago. From the first time that I discovered the paddle board concept, I was intrigued with the idea.  Water, sun, fun, friends and exercise? From day one the need to paddle stayed with me until I eventually tried it.
Prior to stepping on a board, I watched a video online and read a couple of articles. Laird Hamilton is a rock star of water sports. Laird's site offers great information for anyone interested in learning about SUP.
Located a spot to rent boards and managed to convince a couple of friends to join the maiden voyage. I fell head over heels in love with this sport from day one. Paddle boarding was an answer to a prayer.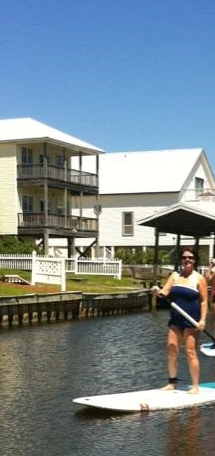 To paddle or not to paddle?
Paddle- if you want to enjoy the beauty of nature
Paddle- away and embrace freedom on the water
Paddle- if you love being on the water
Paddle- if you need to relieve stress
Paddle- if you need to exercise or lose weight
Paddle- for a fun activity to share with friends or family
Paddle- if you want to meet people
Paddle- into the sun and watch the sunset dip down
Paddle- to relax and find your happy place
Paddle- away from all technology
Paddle- just because want to
In my early days of paddling, I tried to paddle when ever I could find the time. A few of my friends paddled with me occasionally.  Surprise filled me when I learned everyone does not love paddle boarding as much as I do. Clearly  I wanted to paddle. In a hurry, I needed to find other paddle boarders.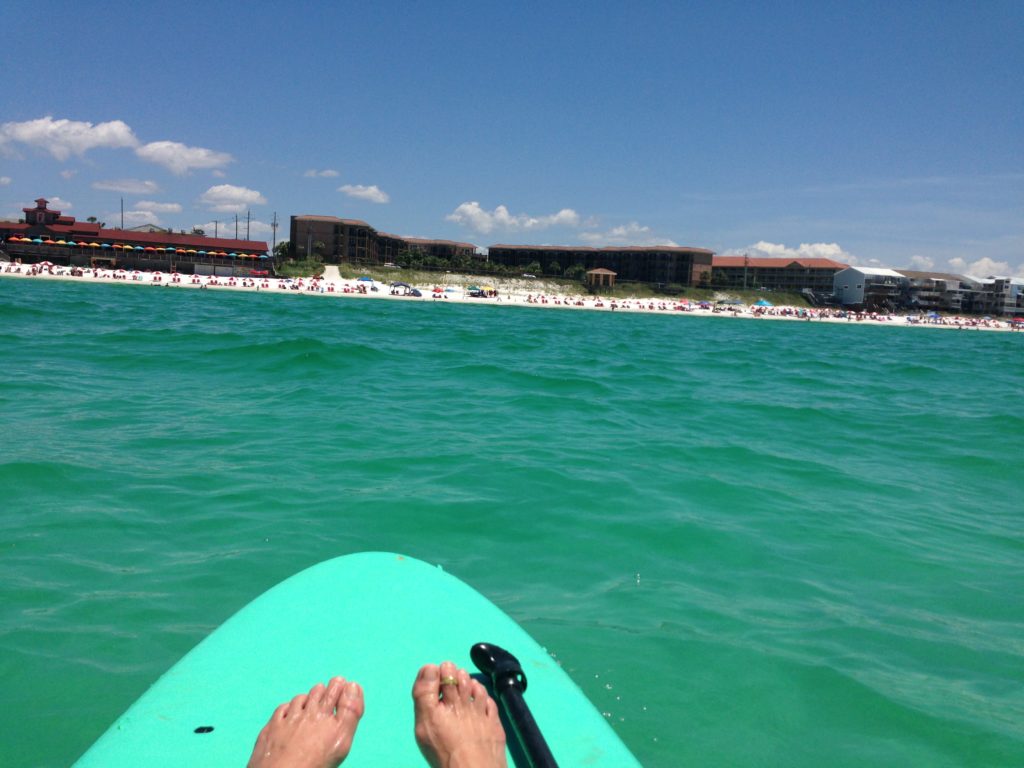 Need a lesson so you may join Local Paddle Group?
Over a long period, I eventually found my way to like- minded paddlers, like John. John Manelos owns  Fairhope Paddleboard and provides lessons for anyone wanting to learn how to paddle. John is a cool guide and perfect person to introduce you to this sport.
I love the sport of paddle boarding. Once I purchased my board, I wanted to paddle as much as possible. The light bulb eventually lit and I posed the question on a local social media site. "Would anyone like to join a local paddle group?"  Delighted is the best way to describe the way I felt when I saw the amount of response this question posed.
I immediately set a date for our first paddle. Seven people showed up an hour before our Local Paddle Group paddle to take a lesson from John. All seven had never paddled before. No one fell in the water that day. Thankfully, the water was smooth like glass and certainly assisted their lesson.
Things to consider when paddling
Paddle boarding is dependent on the weather cooperating. Mother Nature has a schedule all of her choosing.  It is important to check the weather before a paddle and look at the radar for your area. At times, we delay the start of our Local Paddle Group and chat on the side lines while waiting for Mother Nature to blow through.
I have paddled many times alone and enjoyed the solitude of the paddle. Being on the water alone does increase the risk. As we all know, accidents occur and the timing always catches us by surprise. Paddling with a group helps reduce issues that may occur with paddling alone.
Since I started the local paddle group, it has provided a paddle partner for everyone that has joined. I am happy to say that I have met some very lovely people in our group. If you want to join our group, email me at paddle@diningwithmimi.com. Our group has zero fees, meetings or obligations, it's all about the paddle.
Over time, I hope to plan paddle trips to unique places to paddle. I am happy to have the bay close to where I live so that I am able to paddle after work. Paddling is a perfect way to relieve the stress of the day while you watch the sunset dip down. Paddle and play is a perfect way to end a day. Meet us at the beach, if your game.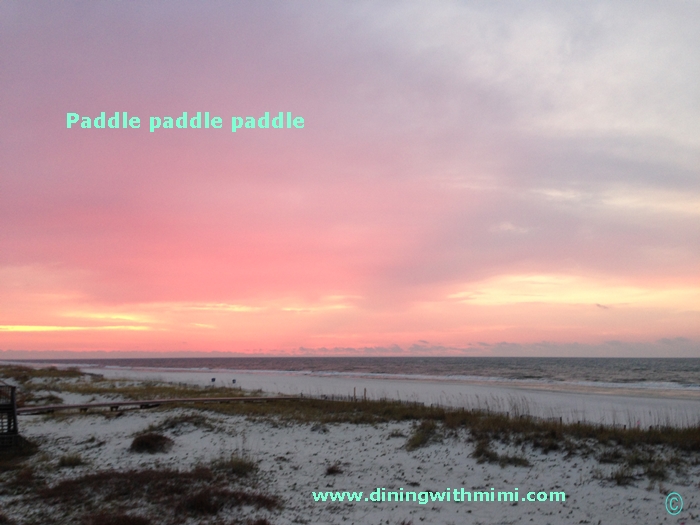 For related articles view the following:
Make ahead Beach Menu- Freeze Transport