My friends in Laguna Beach introduced me to the idea of Stand up paddleboarding or SUP.  Surfing is a part of the community in Laguna.  Patrick is a long time surfer and talented musician. "You can do it." he said.  I added it to my  list of things to do while visiting he and Sharon in 2014. I never made it to the water. The time slipped away.
Months later,  I was driving around Fairhope and spotted an old van that had a Paddle Board sign and phone number. I immediately called for more information.  That was the beginning of my entry into SUP. That sign led me to research local options for lessons and paddle board sales and rentals. Before I knew it, I had researched on the internet for a "How to Paddle". I watched videos and read online magazine articles.
Reasons to paddle away the day
I spotted a place for rental. I solicited a couple of friends to go with me on the maiden voyage. My dear friends joined me on my outing. Well, one paddled and one took photos. It was an awesome experience. I have now paddled for 15 months, and I still love it.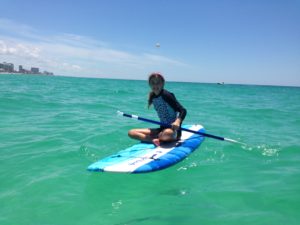 Paddling is the best workout that does not feel like exercise. Paddling offers an all over body workout and targets your core. The change in the weather conditions may add more challenge with the increase in wind and waves.  Paddling in the choppy bay is as much  fun as the calm waters that seem like glass.
Together with my friend I paddled out in the choppy bay. In short, I think we both were trying to shake off a challenging Monday. Then, after about 30 minutes of constant paddling, we were rewarded with a dolphin sighting. Dolphins were a small pod of  that were making their way out to the Gulf. We paddled out to get closer and enjoyed the view as they danced away in Mobile Bay.
In summary, I paddled back to shore as the sun was going down.  The stress of my day had melted away and some calories as well. Since that first day, I have enjoyed introducing my love of SUP to new people. I have been able to paddle with family and friends. I love it each time. Go grab a paddle now and dine later!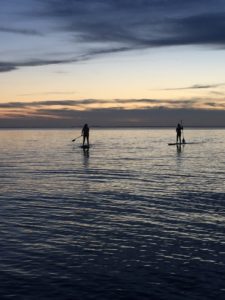 Save
Save