During the month of October, my mind is on my Grandmother Theda Faye more often than normal. I suppose that is common to focus on the loss of a loved one during the month of their death. Losing a loved one is a loss that we may always feel. For me, the loss is there but softened by enjoyment of our shared memories.
I try to focus on all the good memories that I have of my time spent with her as a child, teenager and young adult. The joy that we shared when I became a Mother and she enjoyed her first Great-Granddaughter. I am glad that my daughter was able to experience "Sargeant Granny" in all her glory.
My Grandmother was not fond of my "starter-husband" at all . I remember her stating to me as a caution,  "All that glitters is not gold". Yet, she offered understanding when I explained that we were divorcing.
I was single for a long time before I  met someone who I would consider marrying.  When my Grandmother met my boyfriend, they liked  each other instantly.  This was a good sign for me.
To say that my Granny was spunky is an understatement. Theda Faye was a pistol. She was full of spirit. She did not mind sharing her opinions, and often. My Grandmother experienced many things in her life that were challenging and different from my life.
Circumstances may not always be within our control but how we respond to events are of our choosing.  Events in her life probably helped create  part of her "fiestiness". The things that "do not kill us, make us stronger". I have certainly retained some great life lessons out of my mis-steps.
I enjoyed being in the kitchen with my Granny. She was a good cook and taught me the value of being thrifty. She was a wizard at stretching a dollar. Granny and her husband raised 10 children together, so that was important.
I was happy to learn how to cook a few of her dishes and it makes to smile to cook them. The Black Pepper cabbage is very similar to her cabbage. She cooked this dish with 1 pork chop in lieu of sausage.
I hope that you enjoy cooking this dish. My Grandmother would be happy that I was sharing her cabbage. If you were in her presence for very long, she would try hard to feed you before you left.
This is a great side dish or try a small bowl for lunch. Cabbage also offers great health benefits and is low in calories.  Thanks Granny!
Shout out to Alexa for Billie Holiday
Black Pepper Cabbage
Serves 10-12
1 Cabbage, Whole
1/2 Cup Spicy Sausage, cooked
1 Tablespoon Olive Oil
2 Cups of Ice
1 1/2 Teaspoon Salt
1 1/4 Teaspoon Coarse Black Pepper (increase 1/4 teaspoon, if you want more of a black pepper bite)
Toss outer leaves of cabbage. Remove the end and core of cabbage and toss.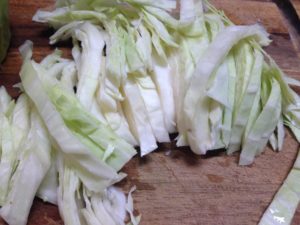 Place the cabbage on cutting board, core side down. With a sharp knife, remove a wedge of cabbage and cut into smaller long pieces.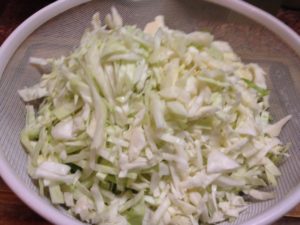 Place cut cabbage into colander. Continue cutting off large sections and cutting into small long pieces until complete.
In a large Stockpot, on medium high heat add cooked sausage, olive oil and stir.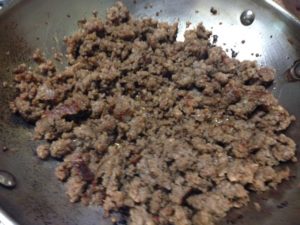 Place colander in the sink. Turn the water on, lift and separate the cabbage to make sure that it is rinsed well and wet. Dump wet cabbage onto sausage and stir with metal spatula.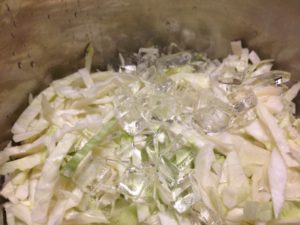 Combine 2 cups of ice with the cabbage. Add salt, pepper and stir well. Cook for five minutes, stirring as needed.
Reduce heat to medium low and cover. Cook for two minutes and stir. Continue this process until the cabbage is tender but not overcooked.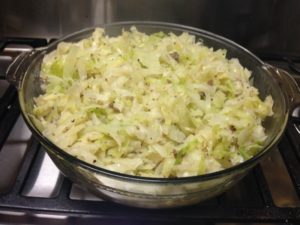 Lagniappe: Reserve any leftover cabbage to be used in vegetable beef soup. This will freeze well in zip lock.
Save
Save
Save
Save
Save