Rustic Peach Tart recipe is the simplest of desserts. All of the ingredients that are stocked in our pantry with the one addition of fresh peaches. Serve peaches freshly picked firm and juicy. Be aware that the peach juice is ready and willing to drip down as you reach in for a bite.
Of course, I love peaches in almost any way that you may serve.  Somehow, the full flavor of Summer soaks into the peach and drizzles out when bitten into or sliced. Peaches also make the best tasting jelly or jam. Fresh peaches have an amazing flavor that does not come through when eating canned peaches.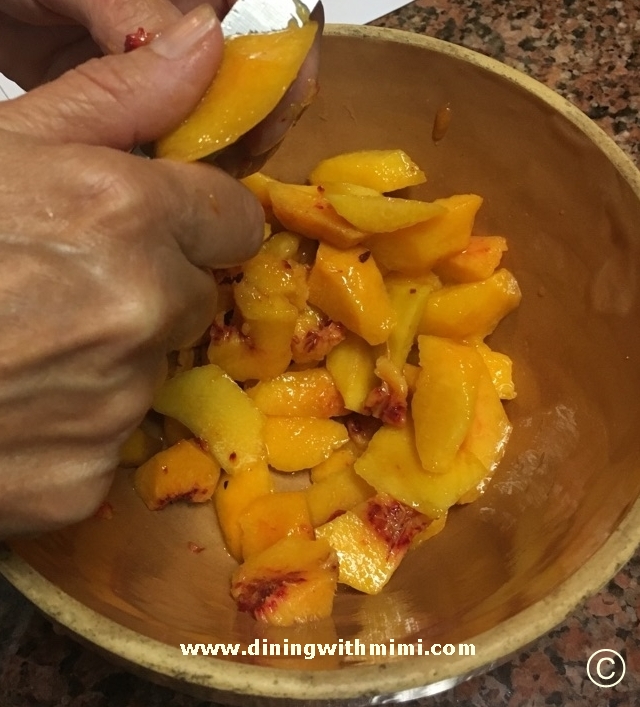 Rustic peach tart recipe is a delicious dish to make ahead and serve later. A dollop of fresh homemade whipped cream served on succulent juicy peaches sitting on a bed of crunch and crust.  Serve this recipe to grab a bite of summer while you may.
Use homemade crust or store bought  for the Rustic Peach Tart?
I elected to use a homemade crust with this dish. The rustic tart screamed out for the addition of homemade crust. There certainly is an old-fashioned element to making your own. The stand-mixer  makes easy work of preparing the dough. I love my granite on the counter and it makes an easy work surface to roll out dough.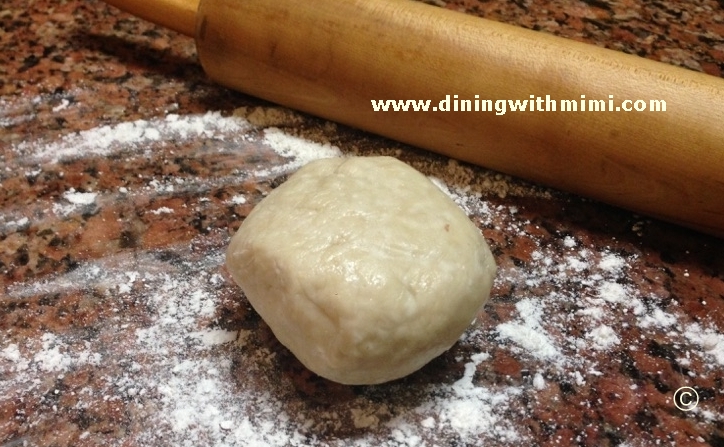 Grill Man's Aunt Theria provided the Standard Pie Crust from her little Recipe Box Treasures notebook. I  adapted the recipe to include the stand mixer and my method for preparing the dough. The stand mixer makes for easy work of a pie crust.
Although, I may use the store-bought version when shortage of time calls for it. Please use which ever version allows you to make this Rustic Peach Tart recipe either homemade or store-bought. I recommend making the tart, allowing to cool, refrigerate least 4-6 hours and serving as desired. This dish tastes good hot out of the oven but it is sumptuous served cold.
Alexa, shout out to all the  songs for Georgia Peaches,  Lauren Alaina's  and Lynyrd Skynyrd's.
Standard Pie Crusts (recipe for 2 crusts)
Standard Pie Crusts for 2 pies
In a stand mixer add flour, salt and combine. Then slowly add in small amounts of shortening and mix on medium speed. In mixer, add in a tablespoon of water at a time and allow dough to combine well. Once combined well, with your hands divide into two equal parts. Shape each part into a ball of dough and wrap in plastic. Cool for 30 minutes in refrigerator.

Work with each ball of dough one at a time. Sprinkle flour on counter and roll out with rolling pin. Roll back and forth to evenly distribute dough as needed working around the pie circle. Dough needs to be flattened as thin as possible to about a 12" circle. With a rustic tart, the size is not as critical as with a pie.

With your fingertips, roll one edge of crust over slowly.

Continue gently rolling over until crust is rolled into a single tube. Set crust aside and roll out other ball of dough.
Preheat oven to 325 degrees.

In your favorite mixing bowl, peel peaches. When peeling start at the base of peach and use a paring knife to work around peach. Slice peaches into a thin layer and set aside.

On a cutting board, chop almonds very fine. In a small bowl combine almonds with sugar. Stir well. Divide this mixture into two equal amounts. Set aside.

On two baking pans, place each crust on a pan. Set crust on edge and unroll. Leaving 1/4" space near edge, sprinkle sugar and almond mixture evenly onto crust. With fingertips, press sugar and almonds down into crust except 1/4" space near edge.

Measure two cups of peaches for each crust. Starting in the center, start placing peaches. Work out from center in a circular motion and divide equally over the crust except leave 1/2" of crust empty. Fold crust over edge of peaches all around the tart and pinch as needed. Adjust dough as needed to cover flaws.

In a small bowl, whisk egg white and brush on crust. Place baking trays in oven. Bake for 20-25 minutes or until crust is golden brown.