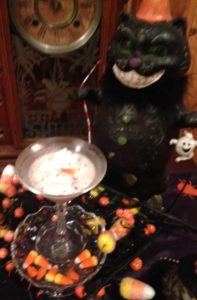 I have been fortunate to have some of my close friends visit, from far away. I have a house full (did I say full) of very genuine, smart, talented, funny and loving friends. This is my "away" team from Cali, Texas and Florida. My "home team" is fabulous as well. A great network of friends whether they're the "away team or home team" is a necessity for continued sanity. And Fall Festive Jack-O-Tini with Pumpkin Spiced Rum will add to the party.
If you don't have a network of fabulous confidants, make it a mission to do so, and soon. Close friends are vital and necessary to have in a time of need. Mix in a friend or two to any mundane task and it will become an improved outing. Great friends are priceless and a joy. Certainly I love all of my friends and feel very fortunate to have met each one of them.
Friends are a different kind of family. Love is unlimited and should be shared. As with all families, there are times of challenges. It is important to work your way through the challenges and get back to love. At times if it's difficult remember love conquers all. Eventually.
With the fall leaves dropping, the fire pit loaded with wood and temperature nippy enough for a fire, it's time for a Martini. In my preparation for house guests, I perused the happy hour offerings. I discovered Captain Morgans Jack-O-Blast. It is a seasonal Fall Festive Jack-O-Tini with Pumpkin Spiced Rum.
My Cali friend from Laguna, is a surfer and musician.  And just so happens to look like Don Henley. Shout out to Alexa for the Eagles. Start with Witchy Woman.
Save
Save
Save
Save
Save
Save
Save
Save
Save
Save

This coconut cream will provide cream for martinis's and reserve for later. A dollop for martini's and your morning coffee. In a bowl on high, mix heavy cream and confectionery sugar until whipped into a good fluff. Fold in coconut. Place bowl in refrigerator until needed.

In a shaker, add Jack-O-Blast, Frangelico, Apple Juice and heavy cream. Add in 1 cup ice to shaker. Shake Shake Shake Pour into a martini glass preferably or short rocks glass. Sprinkle with nutmeg. Add a dollop of coconut cream.