Spicy Sausage Cheese Egg Pies are a great breakfast item to serve when you have a house of company. Pop egg pies in oven, set timer and walk away.  Egg Pies allow for much-needed coffee time on the porch while baking.
Porch time is a fan favorite at our house and almost mandatory for guests. The porch allows for slow and easy conversation while enjoying the birds and squirrel chatter. Perhaps, a lovely place to while away the morning with a cup of coffee. Add in a pitter-patter of rain on the tin roof and it is music to my ears.
Last weekend was Round 2 of my March company.  My Uncle and two of my cousins from Louisiana were visiting with their families, Funny Girl and Lil Rouge. A quick and easy breakfast was certainly on my list. Cooking Spicy Sausage Cheese Egg Pie in the kitchen with them was a joy. Having extra hands in my kitchen is not common but I love and cherish it when I do.
Lil Rouge and Funny Girl made quick work of the Spicy Sausage Cheese Egg Pie recipe that I created for making  two Egg Pies. If you only need one, you may freeze the second pie after you bake. Pie in the freezer is great to have on hand for breakfast, lunch or deliver to a friend in need.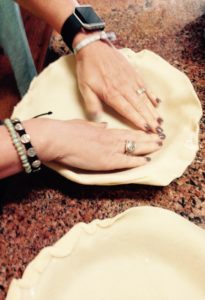 Over the course of our weekend, we had a grand time telling tales of our childhood days and teenage mishaps. Reminiscing about our loved ones that had moved on was bittersweet yet softened by the retelling of our family stories.  Sharing delight in the telling of our tales is a common thread in our group.
No weekend around my family can occur without the occasional game or cards whether it is Shanghai, Canasta or Poop-head. For the record, I was not the Poop-head!
Card playing allows for plenty of conversations, tale-telling and cocktails, of course. My brother was able to join us for lunch, tale-telling and such. Funny Girl whipped up a  delicious white coconut cocktail that I loved. She also whipped up something she called Kidney infection. Oddly, Funny Girl and I didn't drink that one but Lil Rouge managed it somehow.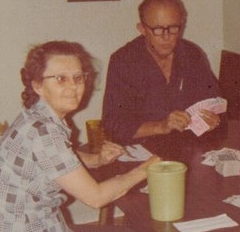 Between hands of cards, we discussed our ancestors and looked at old photos.  Sargent Granny would have smiled had she been sitting with us. Sharing time together is sometimes hard to organize with family and friends but so worth the effort. Living in different cities and states adds to difficulty of organizing  schedules, just do it. Your Granny will smile, I know mine is.
Alexa Shout out to Leon Bridges.
Save
Save
Save
Save
Save
Save
Save
Save
Save
Save
Save
Save
Save
Save

Preheat oven to 350 degrees.

Unroll crust and center on oven pie plates. With palm press on crust on bottom and edge. With fingertips pinch and form crust edge around the pie plate. With a fork, press many holes into side and bottom of crust.

The ingredients will be used to make both pies. I visually divide as I layer the ingredients into the pie crusts. In order layer sausage, green onion, bell pepper and pepper jack cheese into each pie shell. In measuring glass, combine eggs, cream, salt and pepper well. Sprinkle cayenne on top of each pie.

Take note of measurement of cream and eggs, pour half into each pie shell. Note: Most quiche recipes may add more cream and cheese for a bit fluffier texture. This recipe reduces cream and cheese but still offers a good egg pie.

Bake in oven for 40 minutes or until golden brown. The center should be firm but not overcooked. Allow to cool for a couple of minutes prior to cutting. Serve and enjoy.