Who doesn't need a Never Fail Spirited Fig Pecan Bundt Cake? This spirited cake is moist and filled with a buttery glaze that hints  another slice is a good idea. In my pantry,  I always have fig preserves and look for a reason to use. Fig and pecan marry together well in this cake as lifelong friends.
Perfect recipe to play with while spending an afternoon in the kitchen with friends cooking and laughing. Friends that you  connect with as soon as you meet. Somehow you know they will be in it for the long haul.
Sunshine and my newest guest chef, Day Trader joined me in the kitchen to cook a great lunch.  Absolutely lovely way to spend a day. Did I mention the champagne? Everyone chipped in to prepare an item for lunch and helped with the clean up.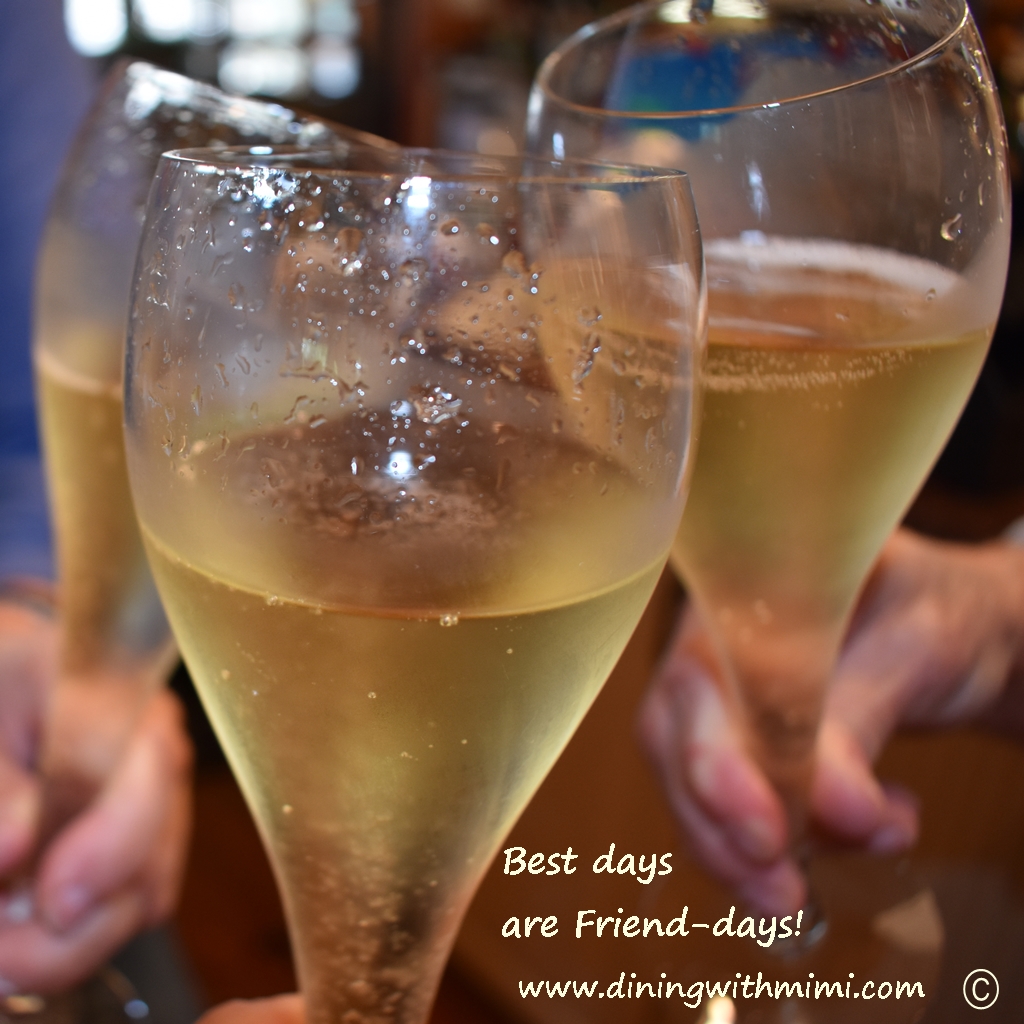 Well almost everyone, Grill Man breezed in just before lunch was ready wearing a "hungry-man" look. Do you know that look? It arrives on the scene about thirty minutes before H-A-N-G-R-Y rears its ugly head. Imperative to always avoid hangry, if possible! Folks, just trust me on this one.

When should I cook Never Fail Spirited Fig Pecan Bundt Cake?
Never Fail Spirited Fig Pecan Bundt Cake is a lovely dessert  to compliment any meal any time.  Once you make this cake, it will easily become one of your go to recipes. Recipe is easy enough to prepare and cake preserves well when you need to make ahead for easy entertaining later.
Using a bundt pan delivers a beautiful shape to your cake . Making a glaze instead of icing reduces the amount of sugar  required in recipe. In addition it saves time spent trying to make the cake look like the oh-my-Southern-Living-Holiday-cakes. It takes a skilled hand and multiple attempts to master an  iced cake. A glaze is a never fail option to add to your bundt cake.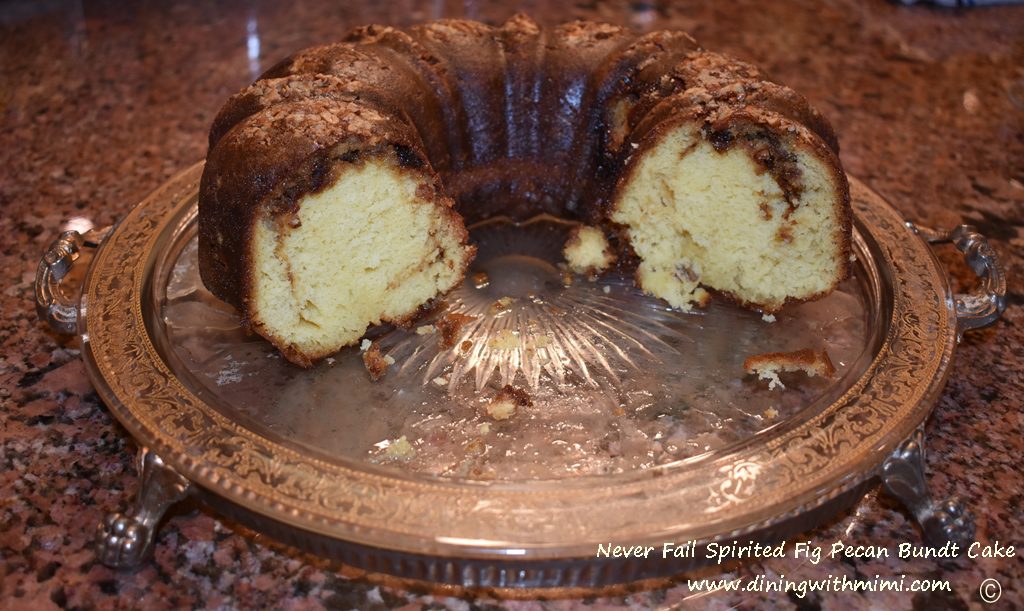 Several years ago I attended a bake sale and purchased  one of the Wine Cakes. The women at the bake sale raved about how delicious the cake would taste. Of course, I asked about the recipe. Shirley and Myra were generous enough to share recipe and mail a copy. I have made a form of this cake ever since.
I adapted Shirley and Myra's recipe to add in a bit of Mimi-ness.  Grill Man said that this version is his favorite so far. Grill Man may be a bit bias.
Shout out to Alexa, play Joe Cocker's With a little help from my friends. Sometimes good friends are all that you need and for those other times, there is always wine or Never Fail Spirited Fig Pecan Bundt Cake.
More desserts for you to try as suggestions for your next event, family dinner or special table.
St Germain Creamy Cheesecake
Southern Comfort and Oh That Chocolate Pie
Updated 100 year old Oatmeal Cookie Recipe
Happy Cooking Y'all!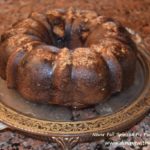 Easy Never Fail Spirited Fig Pecan Bundt Cake covered with buttery glaze. Cointreau and white wine add spirit to this cake.
Servings

Prep Time

12-16

Slices

20

Minutes
Servings

Prep Time

12-16

Slices

20

Minutes
Easy Never Fail Spirited Fig Pecan Bundt Cake covered with buttery glaze. Cointreau and white wine add spirit to this cake.

Servings

Prep Time

12-16

Slices

20

Minutes

Servings

Prep Time

12-16

Slices

20

Minutes
Preheat oven to 350 degrees. Use butter or coconut oil to grease bundt pan and sprinkle with flour. Dump excess flour.

Sprinkle 1/2 cup pecans on bottom of bundt pan and set aside.

Using a mixer combine cake mix, instant pudding and coconut oil. Blend in eggs one at a time.

Add in Cointreau and white wine, blend in to cake batter. Scrape sides well and stir batter.

Using a large spoon scoop out only half of cake batter evenly into greased bundt pan and evenly distribute in pan.

Using a teaspoon add fig preserves to center of batter and add one spoon at a time until covered around circle. Fill in until finished. With a fork spread preserves around lightly.

Using large spoon add in the remaining batter gently on top of fig preserves.

Layer pecans on top of batter. With a fork press down lightly into batter. Bake for 50 minutes to a golden brown. While cake is baking make the glaze to be added later.

Remove cake from oven. Allow to sit for couple minutes. Using a meat fork, poke holes in top and sides of cake. Pour half of glaze onto cake.

Use a butter knife and slide down the side of cake to make sure that cake will release evenly from the pan. Gently slide knife down the center portion as well.

Select a cake plate that has a side lip to catch the glaze. Otherwise it will make a sticky mess on your counter. Turn cake plate upside down onto top of bundt pan. Then using hot pads and both hands flip over so that cake plate is resting on counter and bundt pan is on top. Bundt pan should remove easily. If not, flip back over and use knife to release edges.

Poke holes in top of cake. Pour remaining glaze over cake evenly on top and down sides. Serve when ready. Allow to cool completely before covering with a lid.
In a small saucepan on high heat cook butter, sugar and wine. Allow to boil for a few minutes and set aside.

Note: Adapted from Shirley and Myra's Wine Cake from a Fairhope Bake Sale. Thanks Ladies!