Milk chocolate. White Chocolate. Dark Chocolate. I'm a EOCE.
Equal-Opportunity-Chocolate-Eater
I love Chocolate. I love the taste of chocolate. I love the way that it melts slowly in your mouth. I love it served in almost any way, that it's presented. Cake, cookies, candy, pastries, etc. Nothing is better than a cup of hot chocolate on a cold day. It makes you feel all warm and cozy inside.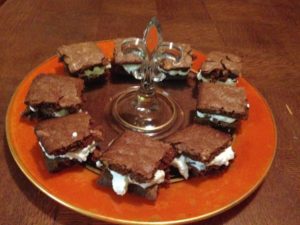 It was a happy day when the medical community decided that chocolate had good health benefits. Here's a  few of the health benefits:
 Assists you in losing weight
Good for Heart & Circulation
May lower the risk of stroke
Reduces Cholesterol
I didn't need a reason to eat chocolate. It is nice to have a medical reason to add to my own personal choice. Now, that is something to be thankful for!
Alexa, Shout out to Lenny Kravitz!
Preheat oven to 350 degrees. Smear a heavy layer of butter on glass pie plate.

In large pyrex measuring cup, add melted butter and cocoa. Stir well.

Add sugar and stir well. In small bowl, using a fork and beat eggs. Add to chocolate mixture.

Add coffee liquer, flour and stir well.

Add pecans to chocolate mixture and stir well. Pour into pie plate and spread evenly in pan. Using a fork, dredge it back and forth to even out mixture

Bake in oven for 25 minutes. Set aside to cool.

Using a knife run it along edge lightly to separate. Invert pie plate onto cooling rack with tray. With a wooden spoon beat on bottom of glass pan if cake does not release.
In a small saucepan, on low heat peanut butter and semi-sweet chocolate. Stir well consistently. Add in parafin, melt and stir well.

Spoon a large amount of chocolate topping into cake. Using an icing knife, spread it evenly across the top. Spoon another amount on the top. Using icing knife spread evenly across the top. With the overflow spread along the sides of the cake. Continue until the cake and sides are completely covered. Allow to sit until chocolate hardens. If your in a hurry, add to refrigerator.
Save
Save
Save
Save
Save