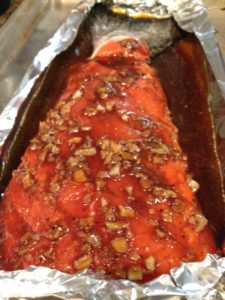 Glazed garlic salmon prepared as an entrée or appetizer is a treat . Any wild caught fish is delicious when served as fresh as possible. If you live on or near a coast, enjoy often the luxury of buying fresh caught fish. It is a superb and should not only be enjoyed in restaurants.
First of all, fish is very easy to prepare at home using simple spices and traditional cooking methods. Served raw as sashimi, pan-fried, baked, steamed, broiled or fried, fish is always delicious. Whether fish is served  on its own or in a supporting role as appetizer, your guests will enjoy.
In the event that your unsure how to prepare fish at home, just start. Cooking fish is easier than you think. Salmon or fish is a healthy addition to your diet.  Moreover, fish thaws out quickly from a solid frozen state. This will come in handy if you're rushing home and want to prepare a fresh meal on a weeknight. Remember, a piece of fish, small salad and glass of nice white wine is a welcome meal any time.
Cooking Tips for Glazed Garlic Salmon
Thankfully fish cooks quickly but tastes poorly if overcooked. Cook  fish 10 minutes for each inch of thickness except when frying. Fish is ready when the color turns to opaque or has reached 140 to 145°F internal temperature. After all once you remove it from the oven or pan it will continue to cook for a bit.   Enjoy the treasures of the ocean and Glazed Garlic Salmon.
Shout to Alexa for Ocean by Led Zeppelin. Forever I have loved this song and band since I was a teenager. An exotic entry into the world of rock. Zeppelin represents good and bad all at the same time, but in a good way. I have been able to see Robert Plant twice in small venues and I attest that he knows how to wail the blues and rock it. If you're a fan, see him while you may.
Save
Save
Save
Save
Save
Save
Save

In saucepan on medium low heat melt butter. Add in garlic and cook for 3 minutes. Whisk in balance of other ingredients. Remove, turn off heat and allow to cool.

On a large baking tray, place an extra large piece of foil down enough to build a wall of foil around the sides of fish to hold in marinade. Using a knife score fish in one direction. This will allow marinade to cover more of the fish. Place fish in center of foiled area.

Pour marinade over fish. Spoon marinade over fish to allow it to soak in between cuts. Turn upside down and cover with foil. Place in refrigerator overnight or 6-8 hours.

Preheat oven on 350. Uncover foil and flip fish so that the top is showing. Spoon garlic from marinade on top of fish. Bake for 20 minutes and check the internal temp 140-145 degrees. Do not overcook fish.

With a large spatula, slide spatula under fish to remove gray skin on bottom.

To serve as appetizer cut into large 1 inch pieces or serving portions for meal. Photo shows salmon cut into large 1 inch pieces to be served as appetizer.