Mimi's Kickin Corn and Rice Casserole is the perfect side dish to serve with a favorite Summer BBQ.  Recipe is easy to make ahead and bake as needed.  Creamy sauce wraps around the corn with rice and hits your mouth with a hint of bacon.
Casserole recipe includes cayenne, jalapeño and chipotle chile powder to give it a kick that delivers. This trio of flavor allows for easy adjustment depending on your preference for spice.
In our house, the flavors must be kickin at all times. I do not want everything spicy but I do adore flavor. I am not a fan of bland foods. Is it wrong to want my taste buds to tingle or sing? I think not.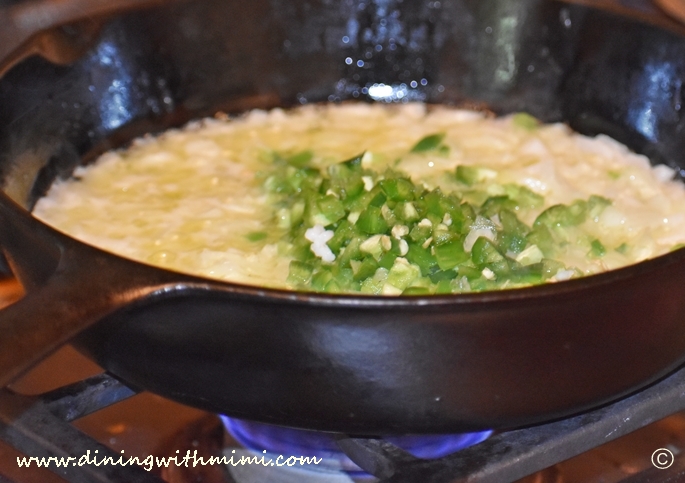 What inspired Mimi's Kickin Corn and Rice Casserole?
Long ago my Grandmother and I discovered a corn and rice casserole from a Southern Living magazine. The recipe became one of her favorites to cook. I had forgotten about Theda Faye's dish until recently while scanning one of my Aunts cookbooks from 2000 titled The Samson  Garden Club, I ran across "Billie's Corn-Rice-Jalapeno Casserole".
Billie's recipe triggered a food memory that demanded I cook a version of it soon. My recipe is adapted from The Samson Garden Club cookbook.
Every time I serve this dish, someone will always ask for the recipe. Dish is delicious and economical to make. Mimi's Kickin Corn and Rice Casserole is yummy even if you decide to leave off the bacon.  Thick crispy bacon does add a flavor all of its own but it may be avoided if you choose to do so.
In summary , add Mimi's Kickin Corn and Rice Casserole recipe to your list for your next dinner party, July 4th celebration or any event that requires a covered dish.  One recipe provides a serving large enough for an average dinner party. Certainly, your guests will love it and come back for more.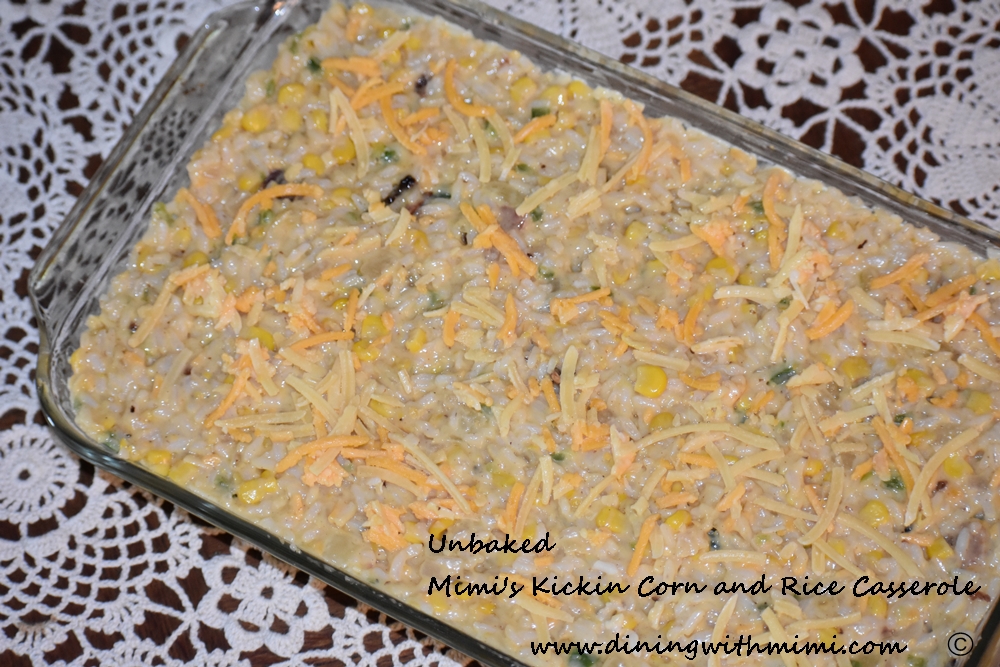 Summer is a great time to enjoy being outside enjoying friends while serving BBQ and Mimis' Kickin Corn and Rice Casserole. Alexa Shout out to Bob Marley and the Wailers for Sun Is Shining.
Creamy spicy corn and rice casserole served with heat and kicked up with bacon. Use fresh corn if you have access to a garden.
Servings

Prep Time

10-12

People

45

Minutes
Servings

Prep Time

10-12

People

45

Minutes
Creamy spicy corn and rice casserole served with heat and kicked up with bacon. Use fresh corn if you have access to a garden.

Servings

Prep Time

10-12

People

45

Minutes

Servings

Prep Time

10-12

People

45

Minutes
Prepare rice according to package directions and set aside
Preheat oven to 350 degrees.

In a medium skillet or sauce pan on medium low heat melt butter. Add in chopped onions and jalapenos. Cook for five minutes.

Stir in flour well. Cook until onion is tender. Remove from heat.

Meanwhile in a large bowl combine corn, milk, spices, crumbled bacon and egg. Stir well. Add in one cup of cheddar cheese, reserving 1/3 to be sprinkled on top at the end.

Add rice and onion mixture to the party in your bowl and stir well. Spoon all into a 9x 13 glass baking pan. Sprinkle remaining cheese on top.

Bake for 35-40 minutes. Serve immediately.

Lagniappe- This dish is easy to make ahead. Prepare, refrigerate and bake as needed. Or prepare and wrap properly to freeze and bake at a later date.

Recipe Adapted from a cookbook printed in 2000 titled The Samson Garden Club. Recipe title Billie's Corn-Rice-Jalapeno Casserole