For your entertaining this season, Flavorful Italian Green Beans recipe will compliment any meal. Fresh flavors surrounded by garlic, onions, bell pepper and seasonings present a tempting dish. The red and green colors in this recipe make it a lovely side dish to serve at any table.
Sunday lunch was a great time to cook Flavorful Italian Green Beans and test it on my family. Whether your entertaining friends, organizing visits from family or dinner parties  you will need a stockpile of recipes for this time of year. I needed an easy meal to prepare, full of vegetables and low in calories. A meal that didn't taste like diet food and or come in a box and would please the toughest critic.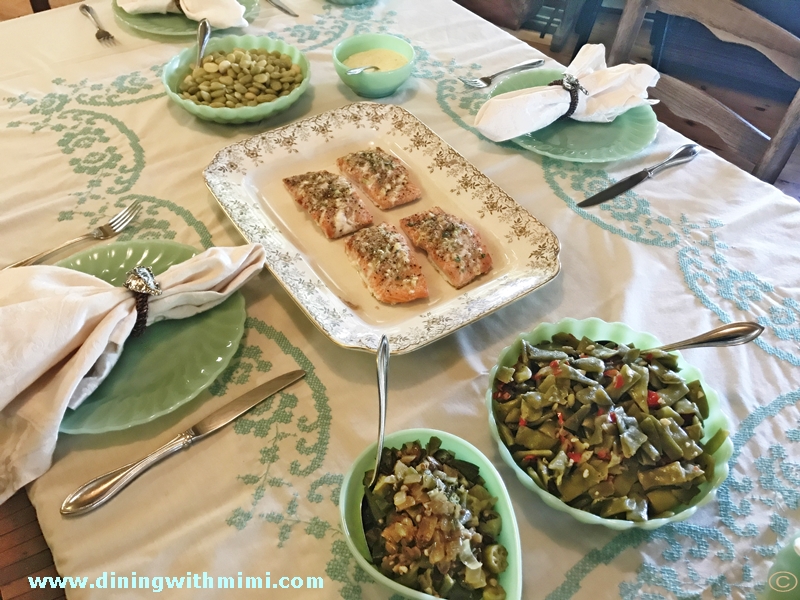 Grill Man is the perfect critic. Thankfully, he loves me madly but absolutely does not mind critiquing. At times, I must make a facial expression that surely shows my displeasure with his comments. Grill Man's typical reply is "You want me to be honest, don't you?"  even before I have time to say anything. Hhhmmmmmmmm?
My judging panel consisted of Grill Man, his Mom  (my bonus Mom ) and son (my IT genius).   This trio of taste testers represent a good cross-section of palates. Sunday lunch offered an opportunity for me to share quality time with family and test a few recipes. A busy girl must learn to multitask if she is going to survive.
What's on the menu?
Sunday Menu consisted of Easy Low Calorie Baked Salmon, Italian Green Beans, fresh okra from the garden and Lima Beans. Grill Man had been on the road a lot and needed a home cooked meal. This menu offers a low-calorie meal that is full of flavor and nutrients.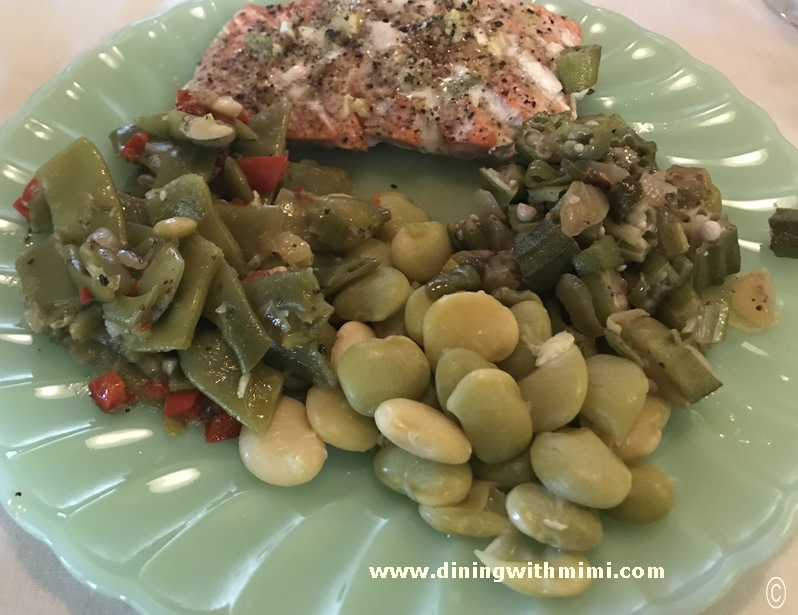 Over the course of our lunch our conversations centered around the meal and family updates. My baby sister and her family had recently visited our home. Her Super-baby is always a topic of our conversations, discussing his latest achievements and viewing recent photos. As his Auntie Mimi, I confess he is adorable and totally grabs your heart upon introduction.
I whipped out my phone to show the latest images of Super-baby. On viewing the latest photo, bonus Mom said "He's a ditty-wa-sport!" What? I had to ask her to repeat because I wasn't familiar with this vernacular. Through our lunch conversations, I learned Ditty-wa-sport is like calling someone a "Sport-T-Model".
Reflecting on ditty-wa-sport made me think of my Granny Theda. My granny had the most unusual sayings of anyone that I have ever met, ever. For the longest time, I thought she created Waste Not Want Not. Mainly, because she said it all the time, gave it to my Mom who then forced  the concept on yours truly. It's a blessing and a damn curse.
Does your family have unusual expressions?
The unusual sayings were all that I could think about. I sent my list of  "Granny-sayings" in a text to a few of my cousins and sisters for any to be added that were missing. After the continuous texts stopped rolling in, and the laughter had settled,  I realized my Granny enjoyed dark humor. I guess that is where I get it from.  Granny certainly gave me her love of cooking and entertaining , too.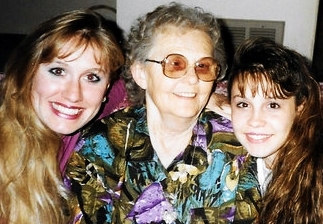 My fondest memories are being at her house underfoot and sharing meals with her very large and loud family. Cooking and sharing meals allows for bonding and conversations that you may only experience while eating together. Don't pass up an opportunity to learn about your family, some items only slip out at the dinner table. As a suggestion, wine may encourage the 'slippin'-out, although not necessary.
Share Flavorful Italian Green Beans with your family. Please let me know how you like it. Also, if you have a family saying that makes you ponder and giggle, please leave a comment and share.   I will share mine soon. Happy Cooking Y'all
In medium saucepan, turn heat on medium and cook for 1 minute. Add olive oil. Start to add the onions and bell pepper and saute for 5 minutes. Add in garlic and stir for a minute. Slowly add in chicken broth, green beans and all of seasonings. Cover with lid, set timer and cook for 15 minutes.

Check the texture of the bean for tenderness and cook for another 15 minutes or until tender. Stir occasionally as needed. Taste a bean and adjust the salt, pepper and cayenne for your taste.