Au Revoir Covid, Hello Summer Watermelon infused vodka. This adult beverage is a delicious cocktail that you need in your life. What is Hello Summer Watermelon infused vodka? It is a simple batch recipe and will yield a lovely Summer cocktail after you allow it to soak for 30 days.
Start this weekend and plan to serve at your next Au Revoir Covid, Hello Summer Watermelon dinner. If you make a batch of infused watermelon vodka now, it will give you something to celebrate when this covid-ness is not the topic of our day.
Why do you need Auvoir Covid, Hello Summer Watermelon?
By the way, when will we be able to say au revoir to covid? No one really knows at this point. Today you will find as many opinions about all aspects of the virus as sand on the beach. It does not matter whether you are talking about origination, proper protection, best practices or how the hell do we make it go away.
Everyone would love for it to magically evaporate if only this was an option. Until then, we must find a way to function in our daily lives and stay safe. Ignoring a pandemic or pretending that your age, health, economic status or even location will protect you alone is foolish. Everyone is at risk. Be safe.
Remember to stay safe during Covid haze
To eliminate risk you will need to follow guidelines, stay alert, pay attention to surroundings and limit unnecessary exposures. Even if you do everything correct, you may still acquire the contagion. The risk has not evaporated but with best practices we should be able to avoid it.
Clearly, I am not hiding in my house but trying to be smart about my choices. One day soon I hope, all of this covid-ness will be a thing of the past. My Hoda Kotb project is helping with the day to day of covid. Until then, buy a watermelon from your local farmer or farmers market and start a batch of Au Revoir Covid, Hello Summer Watermelon.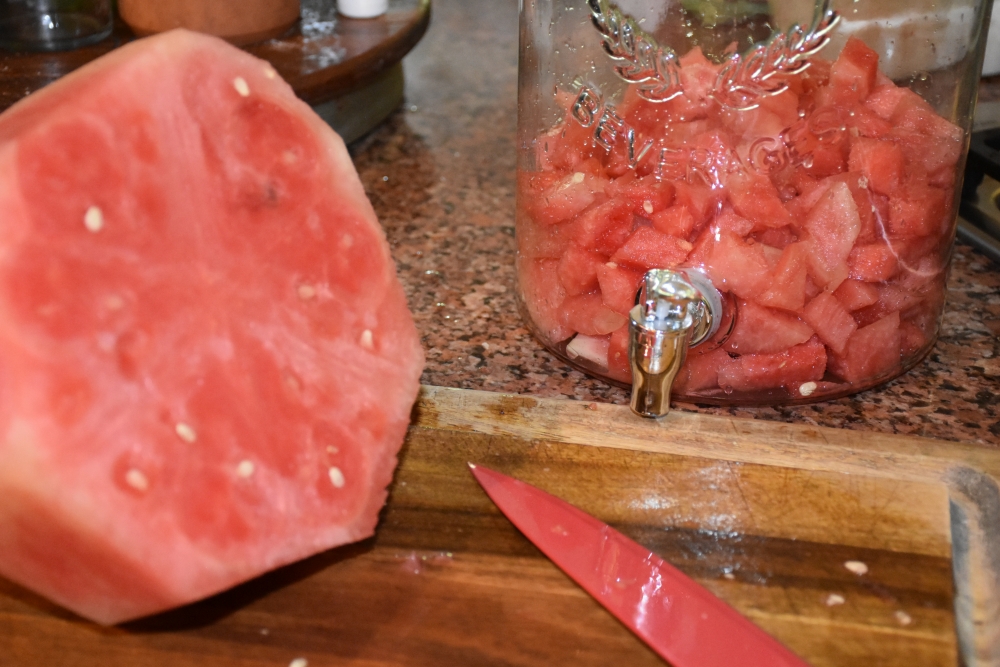 This year, I added my watermelon to a 5 gallon beverage dispenser. Any time I want to sample the fruits of my labor Au Revoir Covid, Hello Summer Watermelon is ready to go. One vintage cocktail glass filled with ice, turn on the spigot and report directly to the porch.
Right now the porch is quiet and dreams of livelier days. Hopefully soon the porch and I will host a reason to celebrate with Au Revoir Covid, Hello Summer Watermelon . Until then, enjoy this new song, Living in a Ghost Town.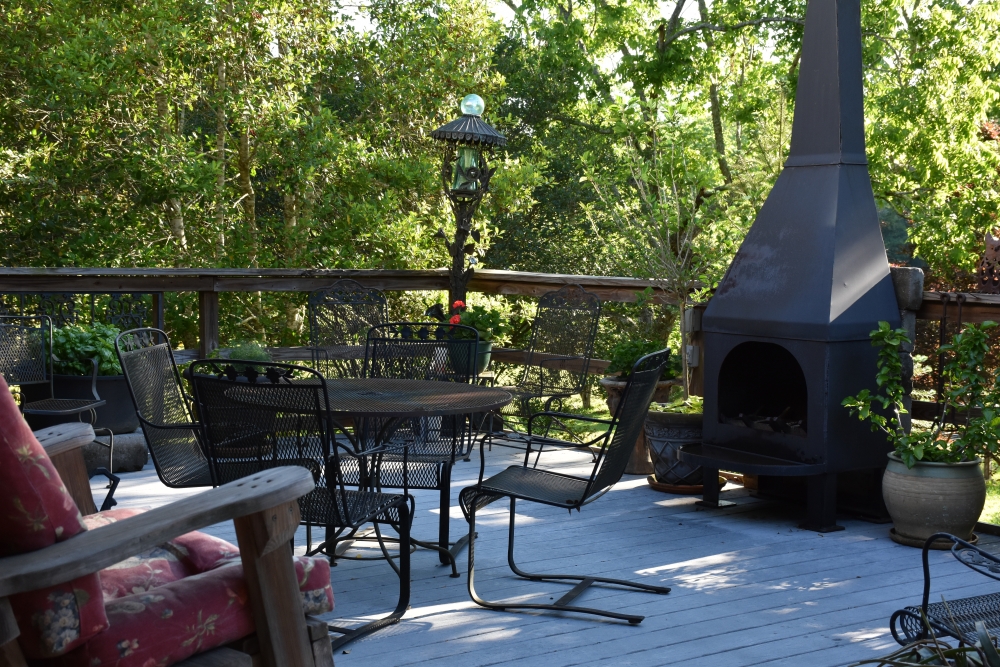 Shout out to Alexa for the newest Rolling Stones song.
"You can look for me
But I can't be found
You can search for me
I had to go underground
Life was so beautiful
Then we all got locked down
Feel a like ghost
Living in a ghost town, yeah"
Locate large glass container to soak watermelon for 30 days. I used a 5 gallon beverage dispenser. Ideas for glass containers: any 2 or 5 gallon mason jar, pickle jar or large storage container. You will also need a container for the rinds.

Wash watermelon and dry with towel.

On a large cutting board place the watermelon. Using a sharp knife cut one end flat and place flat end on board. This will allow you more stability while you cut off the remainder of green rind. (Remove rind and save to make watermelon pickles). Be careful while removing rind.

Once all rind is removed. You want to place knife into watermelon and make a 1" cut slice all the way through to cutting board.Then cut that slice into smaller 1" square chunks. Add chunks to watermelon dispenser . Repeat until all melon is in jar.

Pour vodka over watermelon until it completely covers fruit and 1" over.

Add sugar and stir. Wrap a cheesecloth over top and secure with rubber band or string. Allow to sit for 30 days. After one week the flavor is lingering in the vodka. Tap into your patience because in 30 days it will be lovely.

Stir with wooden spoon every 2-3 days and cover.

After 30 days, remove watermelon fruit and place into freezer bag. Freeze and you may use later in lieu of ice.

Using a fine sieve strain liquid into a large pitcher. Then pour into a clear clean wine bottle. Toss seeds or debris. Add watermelon infused vodka to fridge until ready to serve over ice. Serve as needed or host a Au Revoir Covid, Hello Summer Watermelon.